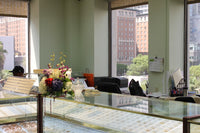 Crown Gold Inc. Wholesale Jewelry
Crown Gold Inc. is a major importer and wholesaler of guaranteed 14k Gold, which was first established in 1985. Crown Gold is located in the vibrant Jewelry District of Downtown Los Angeles. It is a family-owned business that has grown to into one of the most respected and trusted wholesalers in the United States. Crown Gold Inc. is a part of a legacy of jewelers spanning more than 150 years with a wide range of experiences from family-owned retail stores to corporate wholesale distributors. 
While we are strictly a wholesale business, not a retail one, we do have two sister companies named Design Gold Jewelry and Gold and Chains. By browsing through their website, retail customers can find the best prices available with merchandise alike ours.

Our quality gold is manufactured and imported from the best jewelry factories around the world with the highest standard of production and polish. Even though we mainly specialize in 14k Gold, we also carry a large selection of 10K Gold chains. The karat of gold is always guaranteed.

Our goal is to built a long standing relationships with our clients based on trust and mutual respect in order to continue supporting and growing together. We invite you to visit our showroom and experience the high quality of our merchandise, our helpful sales team, but more importantly, our unmatched prices.


CROWN GOLD INC - The best place to buy gold chains in Los Angeles.